Provides Traceable Management
SOFT Platform Independent Workflow and Form System Application is a platform independent application which receives data in the forms (Expense, Purchasing Request, Purchasing Offer, Accounting posting, Advance and Invoice Confirmation, etc.) used by a company due to its operational and personnel requirements, and then, converts this data into a trackable and controllable data together with the process of confirmation.
Confirmative definition complying with the intracompany rules and hierarchy

Determining the workflow to be carried out for the form (generating work definitions such as Registration, Documenting)

Generating forms as independent of platforms, and requesting confirmation

Adding files in forms

Tracking forms awaiting confirmation

Confirmation/Rejection or Requesting Opinion for forms awaiting confirmation

Transmitting form notifications and requests by E-Mail to the person in charge of forms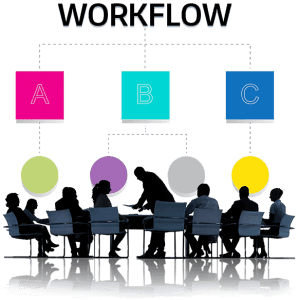 Reminding or automatic confirmation of forms which expire maximum confirmation duration

Displaying the forms which are cc'd to you with E-Mail; transactions of Confirmation/Rejection and Requesting Opinion

Generating a form by referring to a form with a completed confirmation process (generating Purchasing Offer Form by referring to Purchasing Request Form)

Retrieving form data such as Invoice Confirmation Form from outside systems (XML)

Keeping form data in document management system
MEET OUR ENTERPRISE SOLUTIONS
We provide flexible, end-to-end business management solutions for organizations of all sizes – from accounting software for small, medium and large businesses, to a full featured ERP platform serving multi-national companies.
SOFTEASY, SOFTREADY and SOFTLOYALTY solutions fulfill the needs for organizations of all sizes.
The management and coordination of the leased virtual servers shall be undertaken by SOFT and a standard backup service comprises 4-week reversible daily image backup for all servers.
The software consultancy and trainings given by experienced SOFT personnel provide the correct and efficient use of SOFT applications.
Our customers can access SOFT's Help Desk by phone or e-mail and report a problem, issue a request, or get information. A call record will be opened in SOFT Internal Tracking System for all sorts of calls via telephone by the customer.