Manage Operational Processes Integrally
Mobile Ro-Ro Port Management Application, which can run on telephones, tablets or industrial hand terminals using iOS and Android operation systems, enables realization of RO-RO port transactions online or offline. Offline operation is carried out with preloaded data and work order on mobile equipments. The collected data can be equalized with the servers when the equipments are online again.
Port gate entry-exit
Weighing scale measurements
Port area placement
MAFI tractor work orders and transactions
Damage control and register
Vessel embarking-disembarking
Placement inside the vessel
All SOFT Applications have been developed in an integrated structure and provide instant information flow and process efficiency. The aim of SOFT ERP is to manage all work operations in integration. Although applications can be used as solo, efficiency increases when multiple applications are used in integration.
SOFT Applications are constantly developed by the growing needs of The Business Transformation.
Transform your business with us!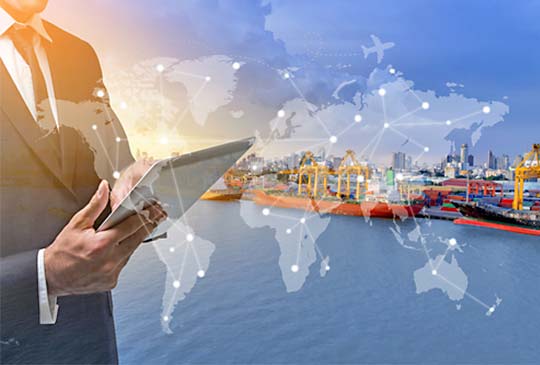 Port Management Application
Company definitions, detailed vessel definitions (Vessel Documents, Draft Data, Technical Data, Vessel Exemptions, etc.)

Detailed port definitions (Working Conditions, Draft Data, etc.)

Pier and terminal definitions related with port

Equipment definitions

Service definitions (Services rendered in port and on vessel)

Vessel movement definitions (Arriving offshore, berthing, start operation, etc.)

Tariff definitions depending on service; and automatic calculations from tariffs

Voyage data

Service/equipment transaction entry depending on voyage

Vessel movement entry depending on voyage
RO-RO Operation Management Application
Detailed vessel and crew data, and tracking vessel documents and their expiry dates

Tracking company, truck and driver data

Using truck data base, automatic calculation of differences between freight and weight, length and width

Tracking blacklist based on company, plate and driver

Vessel departure tariffs and booking transactions

Delivery order, bill of lading and shortship transactions

Cash transactions, collection by all sorts of foreign currency and checks

Linking manifest and collection

Manifest transactions; generation of manifest data in integration with delivery order and cash transactions

Ticket application; tracking tickets, lost ticket and ticket transfer transactions; bonus tickets
MEET OUR ENTERPRISE SOLUTIONS
We provide flexible, end-to-end business management solutions for organizations of all sizes – from accounting software for small, medium and large businesses, to a full featured ERP platform serving multi-national companies.
SOFTEASY, SOFTREADY and SOFTLOYALTY solutions fulfill the needs for organizations of all sizes.
The management and coordination of the leased virtual servers shall be undertaken by SOFT and a standard backup service comprises 4-week reversible daily image backup for all servers.
The software consultancy and trainings given by experienced SOFT personnel provide the correct and efficient use of SOFT applications.
Our customers can access SOFT's Help Desk by phone or e-mail and report a problem, issue a request, or get information. A call record will be opened in SOFT Internal Tracking System for all sorts of calls via telephone by the customer.